Lemon-Olive Chicken with Ras al-Hanout
After SO many roasted chickens, this recipe was perfect for a change of pace.
Olives, lemon zest, ginger, garlic and shallots infuse a lovely subtle fragrance from the inside of the bird, while a warm, nutty spice blend adds bold flavor and crispness to the skin.

Lemon-Olive Chicken with Ras al-Hanout
from "Discovery of a Continent" by Marcus Samuelsson
One 4-5 pound chicken
Salt
10 green olives
5 black olives
4 garlic cloves, peeled
1 tablespoon grated lemon zest
2 shallots, roughly chopped
One 3-inch piece ginger, peeled and cut into three 1-inch pieces
2 tablespoons olive oil
Juice of 2 lemons
1 tablespoon Ras al-Hanout (see below)
Preheat the oven to 400° F. Generously rub the body and neck cavities of the chicken with salt and sprinkle the skin with salt. Mix together the olives, garlic, lemon zest, shallots, and ginger and stuff into the body and neck cavities. Combine the olive oil, lemon juice, and Ras al-Hanout in a small bowl, and rub all over the breast and legs. Truss the chicken.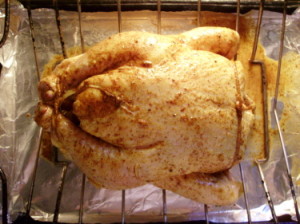 Place the chicken on a rack in a roasting pan. Roast until an instant-read thermometer inserted in the thickest part of the thigh registers 160° F, about 60 to 70 minutes.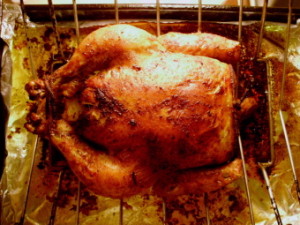 Transfer the chicken to a platter and let rest for 10 to 15 minutes before carving.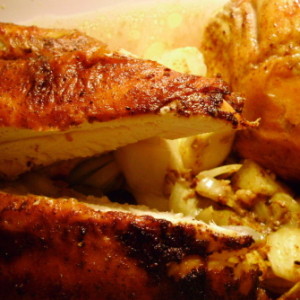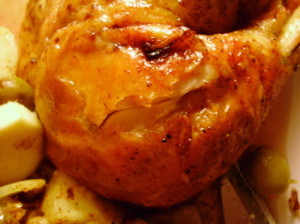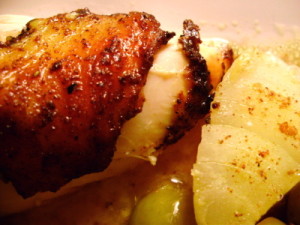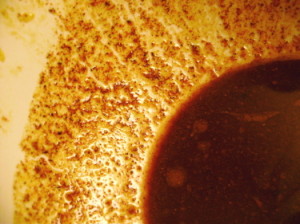 Ras al-Hanout
1/4 cup ground cinnamon
2 tablespoons ground turmeric
1 tablespoon ground black pepper
1 1/2 teaspoons ground nutmeg
1 1/2 teaspoons ground cardamom, preferably freshly ground
1 1/2 teaspoons ground cloves
Combine all the spices in a small bowl and blend well. To intensify flavors, lightly toast the amount you need just before using.