Curried Chicken with Potatoes
A childhood favorite; my mom's is always better than mine! The zesty curry becomes both a foil for, and a bridge between the chicken and earthy potatoes. Don't be shy with the curry powder. The layering of the curry builds up to a tasty result. I prefer a combination of Sambal and Madras curry powders.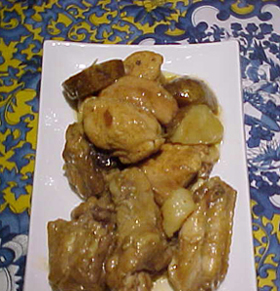 3 lbs chicken pieces, such as legs, thighs, or wings, hacked into smaller pieces*
1.5 lbs russet or fingerling potatoes, cut into small pieces
1 small onion, sliced
4 cloves garlic, chopped
4 tbl curry powder, divided
1 bay leaf
2 tbl cornstarch
2 tbl olive oil
2 tbl oyster sauce
1 tbl light soy sauce
2 cups chicken broth or water
Coarse salt
Freshly ground pepper
White pepper
Season chicken pieces liberally with salt, peppers, garlic powder and 2 tbl curry powder. Drizzle with 1 tbl olive oil and toss to coat. Sprinkle with cornstarch and toss to coat. In large dutch oven, heat 1 tbl olive oil over medium heat. Brown chicken all over, in batches if necessary. Remove chicken from pot. Add onion and garlic and cook for 30 seconds. Add potatoes, bay leaf and 1 tbl curry powder and cook until potatoes are lightly browned, about five minutes. Add chicken, oyster sauce, soy sauce and broth or water and simmer until thickened, about five minutes more. Cover tightly and simmer for 15 minutes, stirring occasionally. Check seasonings, adding more salt, pepper or curry powder if needed, and cook until chicken and potatoes are tender, about 15 minutes more. Serve at once with steamed white rice.
*Hacking raw bones can be daunting. If you have a sharp cleaver, use it. Be sure to make sharp, clean cuts to avoid bone shards, or simply ask your butcher to do it for you. Alternatively, use all chicken wing portions, or boneless chicken pieces. However, bone-in chicken will yield better flavor, and adds a touch of rustic authenticity.