Arroz con Pollo
This traditional Spanish dish adds color and aroma to your dinner table, thanks to the fragrant saffron, onions and garlic. The rice soaks up all the natural goodness given forth from the browned chicken pieces, while green peas add color and texture.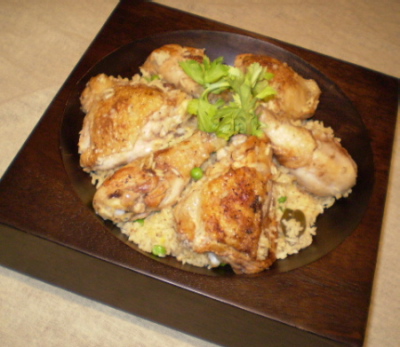 3 lbs chicken pieces, such as legs and thighs
Coarse salt
Freshly ground pepper
Garlic powder
Paprika
1 medium onion, chopped
4 cloves garlic, chopped
1/2 cup celery, chopped
1 tsp dried oregano
2 bay leaves
Pinch saffron threads
1 cup raw, long grain rice, rinsed and drained
1/2 cups chicken stock or water
1 cup frozen peas
3 tbl olive oil
3 tbl butter
Season chicken liberally with salt, pepper and garlic powder. Sprinkle lightly with paprika, and set aside.
Preheat oven to 325.
In a large dutch oven or lidded skillet, melt butter and olive oil over medium high heat. Add chicken pieces, and, working in batches, brown all over. Remove chicken pieces to a platter as they become brown. Once all the chicken has been browned, adjust the fat in the pot, adding more olive oil and butter or removing fat until you have about 1/4 cup. Add onion, garlic, celery, and cook, stirring often until fragrant, about five minutes. Add oregano, bay leaves, and saffron. Stir. Add rice, stirring to coat, browning slightly, about ten minutes. Add stock or water and stir. Bring to a boil over high heat and reduce to low. Simmer for ten minutes, until about half of liquid has been absorbed. Stir in peas. Add chicken back to the pot, on top of the rice. Cover and bake in oven about 45 minutes.
Remove from oven, uncover and remove chicken to platter. Fluff rice and serve alongside chicken.